In Sand Restaurant you can eat real paella for one person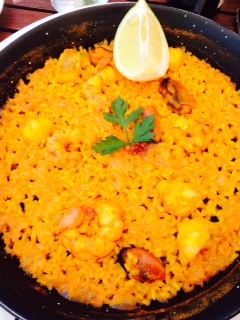 Individual paella
Imagine that you are sitting at the table of a restaurant with the menu in your hands. You have been waiting all week for the arrival of the weekend to eat a good paella and you find in the menu the note PAELLAS AND RICES MINIMUM 2 PEOPLE. Coincidentally that day no diner at your table wants rice so, unfortunately, you stay without eating paella and you have to choose another dish from the menu.
How many times have you found yourself in this situation? Surely many so, remember the next time you want to eat paella yes or yes to persuade your friends to come to Sand Restaurant that, in addition to being in a privileged place in front of Moraira beach, offers paellas and rice made at the moment and for one person, so everybody can eat the dish they really want.
In Sand Restaurant we prepare the individual paella in the same way as if it were a paella for 2, for 10 or for 20. With an excellent product and cooking it the right time to make rice perfect. Here you are the paellas and risottos we offer.
Vegetables Paella
Valencian Paella (chicken and vegetables)
Noodles seafood Paella
Shelled seafood Paella
Duck and mushroom Paella.
Paella with cod fish and cauliflower
Mushroom and chicken risotto
Monkfish and prawns risotto.
Do you encourage to try all of them? We are waiting for you at Sand Restaurant!